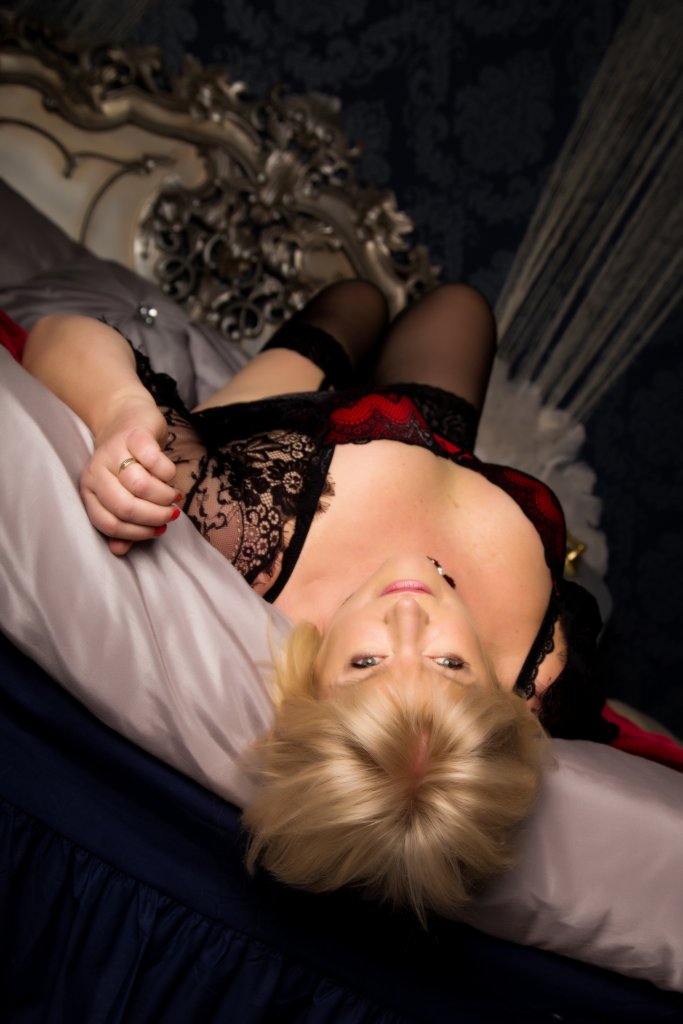 Mrs Crocker
"Do one thing each day that scares you". – I tell my friends.
 My challenge was to do a photo shoot with Kensa.
I'm Karen-  Kaz to my family, I think they call us mature ladies, you know the ones who get to tick the over 55 box in surveys.
I'm" roly-poly" not slim or toned, really body conscious, insecure and totally camera shy. I hate my smile as I look like I'm gurning and I never wear any make up other than a lick of mascara. I'm not the most confident of people, especially with people I don't know.
 It was the day Karen met Karen and the challenge began. I arrived nervous, gabbling like an idiot clutching 3 outfits and a host of lingerie I couldn't believe I'd bought and some I knew were a mistake. Karen greeted me like a long lost sister and left me in the hands of the makeup miracle worker Kasia. By now I could feel myself sweating and panic had set in. I wanted to get up and walk out the door. Poor Kasia was trying to chat to me and all I could do was grunt and try to control my breathing.
After about 40 minutes I got to peek at myself in the mirror. I was transformed – the ugly duckling was a swan, batting false eyelashes and pouty lips. Now I was in a real panic it didn't look like me and I wasn't sure I liked it.
Into the photo studio I went-  a doomed woman.  Karen sat me down and chatted about poses, looked at my outfits and we decided to go for a basque to start me off. I was so flustered I couldn't do up my suspenders. Karen was calm chatty and funny and really put me at my ease and the poses weren't as difficult as I thought, they even stretched out the wrinkly bits.
By outfit 2, I was starting to thaw and even managed to totter around in my high heels without feeling like a baby elephant in a tutu. All the time Karen kept up a friendly chatter and moved me into the position for the poses and pushed me to stretch a little more, to relax my hands, to breathe. I was now ignoring the camera –  I was almost starting to enjoy myself.
Outfit 3 was daring… a bedroom secret… I am Abby Clancy, I am Jordan…. I was transformed……. I am really doing this…. I don't want it to end….. (I could always do another one!)
To all you ladies out there, it scared me. I still don't like looking at myself in photographs but I bought lots of them. I'm even going to have one enlarged for a canvas on the bedroom wall.
Kensa made me realize I am beautiful despite my inner demons.  My partner loves the photographs and is proud that I did it. He sees a beautiful, sensual, sexy woman and loves it and it's made me understand that, it is me –  no matter how deep I bury it – it is there. It made me appreciate you can be whatever you want to be and every woman has that inner self that needs to be set free.
Thank you Kensa and your lovely ladies from the bottom of my heart and from the hidden woman you liberated.
My challenge to all you lovely ladies out there – do it.
You can never change peoples' attitude to you but you can change how you handle it.