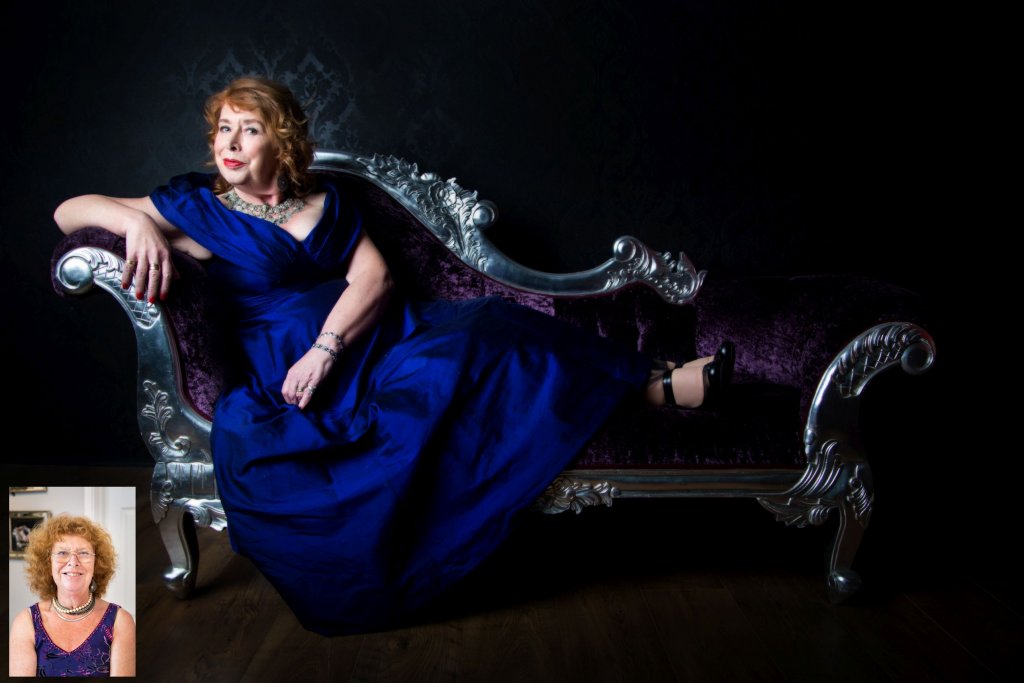 Mrs Moore
"At 69 I wanted to feel glamorous just for once"
I was always a "solid" child. So much so that by the time I was 13 I weighed over 13 stone.
My brother and sister were both slim and athletic.
When I was 22 I had a son and married his father who was 25 years older than me. It was not an unhappy marriage but neither was it fulfilling. Throughout our time together  I went on many diets and lost weight but always put it back on and some more, reaching over 21 stone. Eventually I suffered from depression and the marriage ended though we remained friends.
About a year later when I was 38 I met the wonderful man who is now my husband. He was not put off by my size but did worry about my health as I had high blood pressure and developed Atriall Fibrillation as well as having Arthritis in my knees. For years I dieted and lost about 5 stone but 5 years ago my son died when he was 40 and losing weight became more and more difficult, partly because my dog died just a few days before my son and so I was getting less exercise.
Eventually my doctor referred me for weight loss surgery and I went through the preliminary stages for this. I had to lose 10% of my weight first which I managed and then I had a gastric bypass, after which I slowly lost weight.
I think that I believed that this would transform me into being young and beautiful but of course it did not!!
I looked in the mirror and saw the sagginess and wrinkles.
Years ago my mother had suggested I had a studio photo taken before my hair faded. The years slid past and life got in the way. We travelled and did up homes in France and Bulgaria and have had a good life.
However early this year my husband was diagnosed with cancer and is undergoing chemotherapy. It has caused me to think differently about some things. I saw photos of a young friend and she mentioned Kensa Boudoir. I started looking at their website and found I was hankering after having some done myself. But I still had difficulty justifying it to myself. I knew I wasn't doing it for my husband. I suspected he would just laugh when he saw the pictures. No it was something just for me. At 69 I wanted to feel glamorous just for once. It still took a while to pluck up the nerve but then I saw they had a special offer on and I contacted them. I was quite definite that I only wanted one picture just to feel good. And to show that my hair still hadn't faded at my advanced age.
I thought that I would feel ridiculous posing in undies so I took along a dress which I loved and a another dress and a shawl. I was nervous and shaky when I got there partly because I had got lost because my sat nav took me to the wrong place but I was very quickly put at my ease and given a glass of wine. The make up session was lovely, very relaxing and I was amazed when I looked in the mirror!
Then came the photography. I really enjoyed that session. Karen showed me the positions to pose in and it was all great fun.
Then off I went to visit my husband who was in Hospital for a few days.He made no comment about my beautiful make up and glamorous false eyelashes but did notice that my hair was a bit different.
Two weeks later we went back to view the photos, My husband and a close friend of ours came with me. I had warned them that they were not to laugh.
But I needn't have worried. The photos were wonderful. I was stunned. But I had to choose just One. That was hard but we gradually narrowed them down and it was chosen. I put the picture on Facebook and a friends husband messaged me saying "Crumbs. I've just seen your profile picture. You were pure crumpet 😉" I had to point out that it was a recent picture!
However over the next few weeks I hankered after those photos and eventually contacted Kensa and arranged to have some more. For the first time in my life I actually believed I was beautiful and glamorous.
Hopefully other older ladies will see this and realise it is not too late for them!