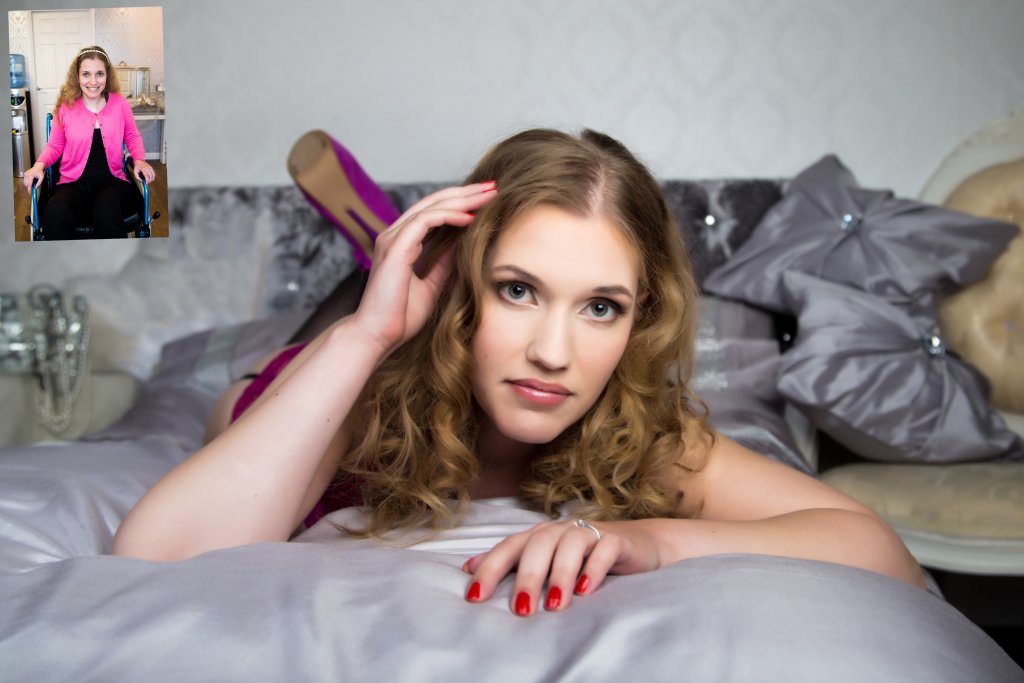 Miss Walker
"I had a huge confidence boost knowing that I could be normal for a short period without someone treating me differently"
I decided that for Christmas I would buy my husband a more personal present so my carer suggested booking a Kensa boudoir photo shoot . We looked online at the photos and reviews to see what was involved and booked a date to go. Myself and my carer went out in my wheelchair to pick some nice outfits for the shoot which made me feel really excited. I kept counting down the days to my booking in anticipation .
On the day, my carer got me ready to go in to Kensa. With my mum by my side as I entered in my wheelchair I was very nervous and anxious about how I was going to manage the poses due to my poor mobility . I had my hair and make up done and the lady who did it was very kind and gentle with me and asked how much or how little make up I wanted .
We then went into the boudoir room and talked about how I wanted my photos and my carer explained about my mobility and Karen suggested poses that would cater to my needs . My mum and my carer assisted in helping me change into my outfits on the wheelchair. Although I felt amazing, I was worried about how I was going to manage getting into the poses but Karen and my mum and my carer reassured me that I would be able to do the poses safely with their help which made me more comfortable and relaxed .
Throughout the shoot I became very confident and felt like a normal able bodied person. I wasn't treated like a disabled lady or someone who couldn't do it . I was even able to do a standing pose which for me was amazing, and a sitting on the chair backwards pose which I struggled to do but was proud I had done it. The whole experience for me was amazing I had a huge confidence boost knowing that I could be normal for a short period without someone treating me differently. When I came back to look at the photos I barely recognised myself. I looked amazing! It brought a tear of happiness to myself and my mum because I looked like a normal person. You wouldn't know I had a disability or used a wheelchair from the pictures. My husband will love the pictures and the whole experience was amazing and it proves that anyone no matter how disabled can do it .