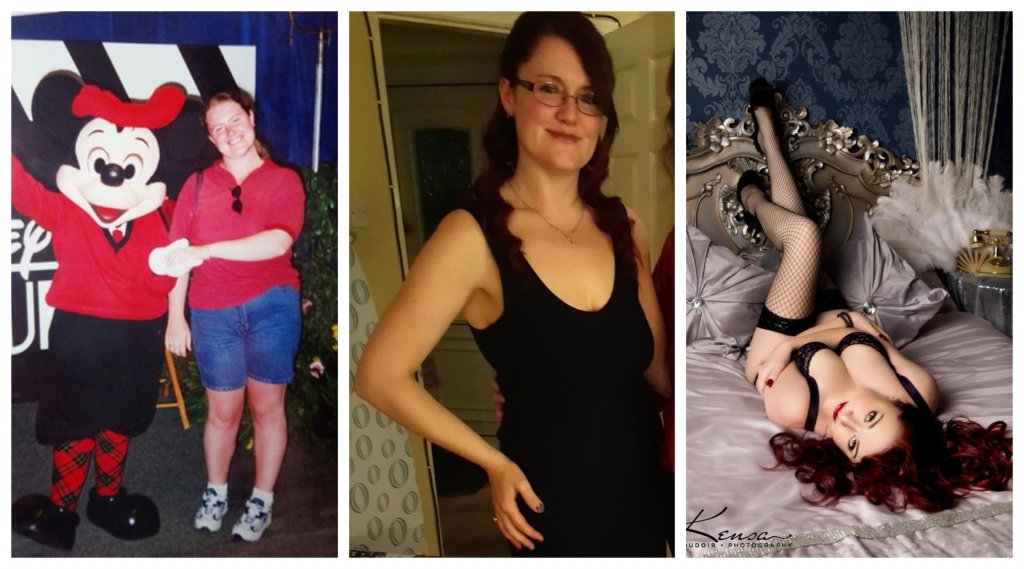 Mrs Fielding
"You don't have to go all out in flimsy lingerie; after you have had your hair and makeup done you'd look gorgeous in jeans and a t-shirt!!"
I have always considered myself to be a big girl, even back in secondary school, but I never realised how much weight I had put on until I put a skirt on, that used to hang off me, and it was tight. I thought "Huh?" I popped onto the scales and I was over 16 stone!!! I thought "When the hell did THAT happen?!?!" It must have crept on slowly over the years as neither myself or my husband noticed. After that eye-popping revelation I decided I had to go on a diet.
When you are trying to lose weight you don't realise how much time it takes. You lose a pound here, a pound there but when you are trying to lose weight you turn into Veruca Salt and you want it now!!! Hehe, but it did take a long time. I'd like to say that I exercised it off, that I was going to the gym every day or running but I'd be lying. It was literally just reducing the amount of food I was eating. When you weigh yourself and see you've only lost 1 or 2 pounds you think "Really?? Is that it??" It doesn't feel fair after all of the hard work you have been putting in but if you hold a pound or two of sugar in your hand that's quite a weight – it just doesn't feel like it when you are looking at that number on the scales.
After a few years I had lost over 6 stone and kept it off. Even when I was at the end of my pregnancy, after having fertility treatment with my son I was nowhere near the heaviest I had been. And when I put my jeans straight on after having him, well, that was the icing on the cake for me!!
This is the most confident I have ever been with my body (I even wore a bikini on holiday last year and THAT is something I would never have done before lost weight!!) and had always wanted to do a boudoir photoshoot and after lots of hints dropped to my husband he bought me a voucher for my 40th birthday!!! I was over the moon!!! Nervous but over the moon!!! I already had a few pieces of lingerie I had in mind for my photos but it was so much fun having to go into town and buy a couple of things especially for the shoot.
On the day of the shoot I left early, on purpose, to drive from Plymouth to Crediton and would you believe I ended up being a bit late because of traffic?? I was pulling my hair out by the time I arrived but the girls were absolutely amazing and put me at ease straight away.
We all talked the whole time my hair and makeup were being done and when I looked in the mirror I couldn't believe that stunner looking back at me was me!!
It was time to have my photos taken!!! Cue scary music!!!
The photographer was awesome!!! I honestly can't use enough nice words about the whole team!! We went through my outfits and decided which ones I would wear. She even helped me with my fishnet hold-ups because I couldn't do a thing with my false nails!!! My hour or so in the studio went so quickly and it was so, so much fun – me feeling like a blob and her saying "Move your leg this way" or "Just lean slightly like this".
I had a week to wait for the big reveal. I was so nervous – were they going to look ok? Was I going to look ok? What if I didn't like them?? Well I needn't have worried – I saw the first picture on the screen and the tears rolled down my face. Was that goddess on the wall really me??? After half an hour I managed to whittle all of the photos down to 11. I never realised how hard that would be, I wanted all of them!!!
When I picked my prints up I couldn't stop looking at them and wanted to show everybody!!! I shared some of the less risqué ones on Facebook for my friends and family to see. They are absolutely stunning and the whole team are nothing short of miracle workers!!
I have told all my girlfriends about my experience and recommend for everyone to do it, even just the once, to have a photo of yourself you can't stop looking at!!! You don't have to go all out in flimsy lingerie; after you have had your hair and makeup done you'd look gorgeous in jeans and a t-shirt!! My confidence has shot through the roof, even my husband said so and said he's glad he bought it for me!
When you are having a bad day or are feeling like death warmed up you can look at your photos and know that you can look like a goddess. After all this time, after losing weight, I still think that I'm that podgy girl from years ago but then I look at my photos and realise I'm not that person anymore. I'd love to do it again with different outfits and hairstyle!! Hear that fate? I need a lottery win pronto!!!
Thank you for the umpteenth time to the Kensa team for everything!!! Xxx