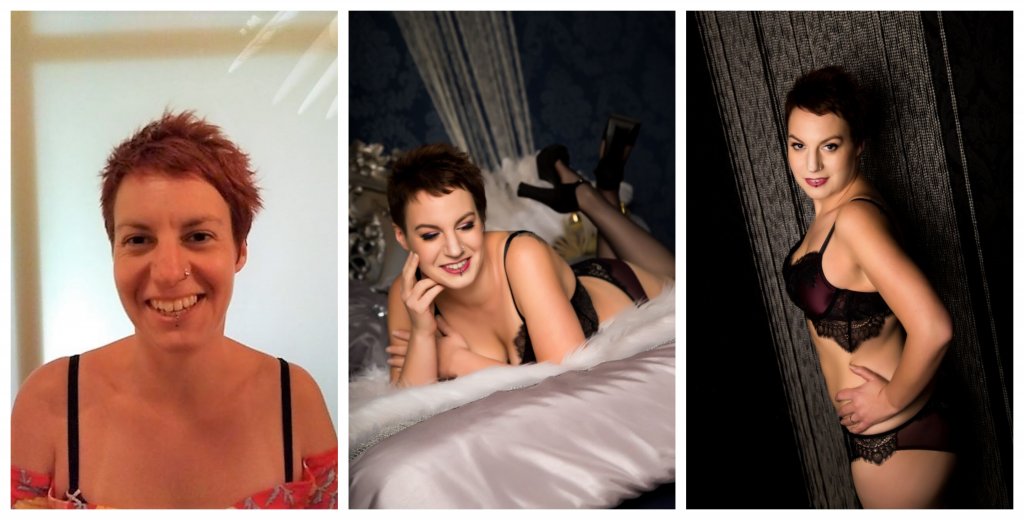 Mrs Clayton
"One day when at home and bored of feeling rubbish, I decided to embrace my new body and messaged the studio. Karen called me back, was so understanding and encouraging and I bit the bullet and booked myself in!"
My weight has always fluctuated, and I have never been what you would class as body confident. I've never been embarrassed or ashamed of my body, however even when slimmer I've definitely never been the bikini wearing type.
After having children my weight crept up, and around my 2nd child's 1st birthday (winter 2015), I saw photos of myself at a wedding and realised just how big I'd got. I began to lose weight, a little to begin with, not trying too hard. Then when it began to come off, I got the bit between my teeth and it became a battle of stubbornness! I set myself the target of losing 4.5 stone, which would take me to just within healthy BMI. Just over a year later I had met and exceeded my goal and lost 5 stone, or a third of my body weight. I was fitter, healthier and actually felt good!!
I got to enjoy this feeling for around 8 months when, last summer, I ended up having two emergency surgeries within three weeks of each other and lost over a foot of my colon. This left me with 4 abdominal scars and over 3 months of recovery time. I felt like my body had failed me and disconnected myself from it.
I'd seen Kensa's Facebook page popping up over the last year, and one day when at home and bored of feeling rubbish, I decided to embrace my new body and messaged the studio. Karen called me back, was so understanding and encouraging and I bit the bullet and booked myself in!
The day of the shoot was amazing. The make-up was flawless and Karen made the shoot relaxed and fun. I'd wanted the shoot to allow me to take ownership of my post children, post weight loss, surgically scarred body: and Karen totally facilitated this. She ensured we had shots that highlighted the scars and also ones that ignored them.
I had every intention of choosing a photo that showed my abdomen; however after viewing all 30+ photos I was so blown away by my body, I saw myself through new eyes. It hadn't failed me, it had grown two beautiful children, it had healed, made me stronger, and turned into THAT on screen in front of me. I was so in awe of myself that there was no need to display the flaws. Instead I chose a photo in which I felt a million dollars.
It sounds cheesy, but Karen allowed me to complete my journey of recovery and allowed me the experience of stepping outside of wife and mother, even just for a few hours. In that time, I forgot the fat me, I forgot the surgery and I was ME.
The experience of seeing yourself on a big screen, looking like never before and liking- no, LOVING- what you see, is one that will stay with me for a lifetime. And one I will always be grateful for.
Thank you for opening my eyes to myself Kensa, you're amazing!